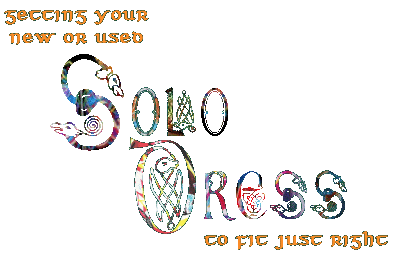 Ever been searching through classifieds for used solo dresses and become totally frustrated because you didn't know any of the measurements they were giving you? Wonder no more! This page is designed to help you gather all the necessary measurements for ordering a new dress or for finding the perfect fit in a used one!

Essential measurements for the purchaser of a new/used dress


the following has been provided by DressXpress:
Measuring For Your Dress
1. Chest/Bust
Measure around the fullest part of the chest/bust.
2. Waist
Measure at the narrowestpoint, generally at belly-button level. Make sure the dancer is relaxed and not pulling in when this measurement is being taken.
3. Back Neck Bone to waist
The most difficult one to get right! Measure from the Knobbly bone at the base of the neck (ie. the point at which the zipper would stop) straight down along the spine to the waist. It is essential that the dancer does not curve forward, as this will give too long a measurement.
4. Shoulder to Cuff
Measure from the edge of the shoulder where the sleeve will meet the armhole, straight down the outer arm to the point on the back of the hand where you would like the sleeve to come. Currently about 1/3 of the way down the back of the hand is considered attractive and practical for a new costume.
5. Finished Skirt Length
An easy one to do but so many get it wrong! If in doubt - err on the short side as hemlines are currently rising. A costume that is too long is both unattractive to look at and a hindrance to the dancer. Measure from the waist to wherever you wish the skirt to come above the knee. Mark this point and then have the dancer point her toe. Now check how far down the same measurement comes. This will be below your first mark. The dress should not shade the dancer's knee when she points. It is important that you are happy with the measurement when the dancer is both standing straight and pointing.
6. Shoulder to shoulder
Take this measurement accross the shoulder blades at four inches down from the back neck bone and across to where you estimate the armhole seams should be.
DOs and DON'Ts
Do: measure over whatever clothing the dancer would normally wear under her costume and ensure the dancer is standing properly when you are measuring her ie. that she is not looking down, slouching etc.
Dont: measure over regular clothing
My Friends' Solo Dresses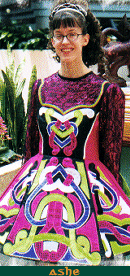 More Examples of Solo Dresses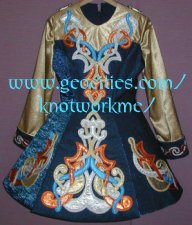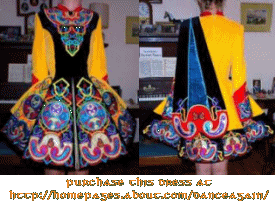 Places To Get a Solo Dress
Used Dresses
Dance Again (the BEST!!)
Dancing in Celtic
New Dresses
Threads of Green
Seven Gates Designs
Paul Keith
McMahon Designs
DressXpress
Irish Threads
Lindasfarne Designs
Dress to Impress
Golden Harp Sewing
Kilkenny Creations
Celtic Daughters
Celtic Image
Irish Dance Wear
Total Dance Supplies
Irish Dancer's Catalogue